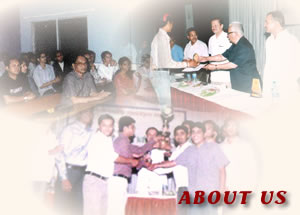 OUR FEATURES:
Easy Admission
No Donation
No Percentage Barrier for Admission
Placement Guidance
Many of our students got placed in reputed organizations:
Chaudhari Dinesh - Patni Comp. Sys. Ltd.
Sharma Suryakant R. - Hindustan Lever Ltd.
Badge Dilip - Praj India Ltd.
Bhor Ulhas R. - Infosys Tech Ltd.
Babor Mangaldas - Bharat Forge Ltd.
Devhade Pramod K. - Tata Motors Ltd.
Kurle Navnath - Alfa Laval
Shetti Kashinath - Kirloskar Brothers Ltd.
Dinde Prashant P. - Cummins India Ltd.
Moghe Sameer - Rohan Builders Pvt. Ltd.
Sonawane Tushar - Thermax Ltd.
Joshi Vaman - Reliance Petroleum Ltd.
Pathak Sandeep - Zensar
Wachakawade Prasad - Wheels Auto
Jadhav Abhijeet - Tata Motors
Satpute Rahul - Cummins India Ltd.
Gaikwad Jalinder - Own Business
Deshpande Milind - Self Contractor, Electrical
Mane Mohan - ISMT, Baramati
Paul Samiran - Magarpatta City Project
Pujari Rajesh - Sulzer India Ltd.
Argade Vrushali - Own Placement Forum
Mrs. Kulkarni Padmaja - Praj Industries
Phadtare Nitin - BSNL Telecom
Linge Avinash - G. B. Rubber Prod. Pvt. Ltd.
Joglekar Hemlata - Fristam Pumps (I) Pvt. Ltd
Mistry Chetan - Micro Serve
Borate Swapnaja - Rutuja Electronics
Neaurgaokar Abhaya - Tata Motors, Raipur
Gaikwad Vikas - Hindustan Antibiotech Ltd.
Kulkarni Pushkar - V-Smart Technologies
Godambe Nikhil - Manas Enterprises
Suryawanshi J. - Wonder Cars Pvt. Ltd.
Joshi Santosh - Ebz Onlinet Pvt. Ltd.
Raphael Arun Anthony - Alfa Laval
Godse Madan - IBM
Vhaval Mandar - Thermax Ltd
Pisal Anil Eknath - Sulzer India Ltd.
N. John Jerry Jasline - From Kingdom of Saudi Arabia
College of Mod – Tech Engineering & Mod - Tech Academy was established in 1997. With in of 12 years 'Mod – Tech' has earned excellent reputation in the field of Technical Education among the students community & industry people. Founder of this organization Dr. Devidas Joshi is having 25 years experience in Traditional & untraditional Technical Education. In view of the restrictions published by 'AICTE', management has decided to restructure the organization by the name 'Mod-Tech College of Engineering Pvt. Ltd.'. It was formed in December 2005 & since last five years management changed the name as "Mod-Tech Academy".
This perticular organizational activity is to advice needy students in their professional education in Maharashtra. Our endeavor is to give guidance to needy 10th / 12th (Science) pass students, who are interested in getting proper information & guidance of Govt. Recognized Engineering Courses in and around Maharashtra. Ours is an informational activity, but if the students demand to give the coaching and practical facility, then we can arrange such facility to the student. 'To learn how to swim, you need to get into water instead of reading books on how to swim' - says Hon. President Dr. A.P.J. Abdul Kalam. Exactly this policy is adapted by founder director & those students who say Engineering is very difficult as it needs to have 80 to 90% marks in 10th & 12th Std, our Director erase this mentality & methodology for admission. There is no percentage barrier to learn various Engineering degree level, diploma level courses & other educational courses. The director feels that education is birth right & everyone should get it at reasonable cost. This is beneficial for working students only.
There are lacs of students in our society who are under pass class. If such students are ready to take Technical Education from this type of platform, for them We are Here! A unique solution 'Mod-Tech Academy'. Recently Govt. Policies are rapidly change. There are many changes are occur but we believe Govt policies & not against of Govt (State / Central).
Most of retire professors from Govt. College & experts from industries are our staff members. They give full experience knowlwdge to our students. Basically our academy is Information Centre . Examination & Certification are provided by respective Universities / Educational Trusts.
We have the full information of following Universities / Educational Trusts:
UGC Recognised Universities
Abhinav Educational Foundation (Trust)
It is an educational Trust & not University under UGC act 1956 not
approved by AICTE or DEC or any Govt. Body.

Institution of Civil Engineers (Syllabus approved by AICTE, Govt. of India)

Institution of Mechanical Engineers

Institution of Electronic & Telecommunication Engineering
(Recognized by Govt. of India, ministry of Science & Technology)
AIMS & OBJECTIVES:
Students from various intellectual levels can get the state of art Technical Education at minimum cost. We always intend to impart the most advanced Engineering knowledge to hardworking students. We achieve a superb platform on which a train of people, willing to teach, take the students, willing to learn, as the commuters to make the educational journey the most enjoyable & life turning.
COURSES:
Four Year Advanced Technology Programme (Degree Lavel) Enginereeng
| | | |
| --- | --- | --- |
| MECHANICAL | ELECTRICAL | B.B.A. / M.B.A. |
| CIVIL | INFORMATION TECHNOLOGY | B.C.A. / M.C.A. |
| COMPUTER | TELECOMMUNICATION | B.A. / M.A. |
| ELECTRONICS | PhD | B.Com. / M.Com. |
For more details on courses, click here